I wanted to take a break from OOTD posts and Weekly Wishlists to talk about a curvy girl issue close to my heart. As much as I love spring and summer there is one little problem- chub rub. Chub rub is the irritation caused when your thighs rub together when you walk, and it doesn't just happen to plus size girls! I've had thick thighs for as long as I can remember. The first time I had issues with chub rub was the summer before my freshman year of college, when I was roughly a size 8. Sizes and pounds have come and gone, but irritated thighs remain.
I've found that the best way to totally prevent any irritation is to wear garments that cover the entire area. As a result, I almost always wear thigh slimming shapewear, tights, or bike shorts under my skirts and dresses. This presents its own set of challenges. Will the shorts or shapewear ride up or cause irritation? Will they be long enough? Will I get over heated? Can I afford several pairs?
In college I wore leggings or bike shorts under all my skirts and dresses. Bike shorts are surprisingly hard to find! They are the only thing I've ever been so desperate to find that I resulted to Walmart. Here are my favorites:
image via walmart.com
After college I put on a little weight. I also became a city girl. With all that walking I wanted something more durable and more supportive. I tried a bunch of different brands and styles of shapewear over the course of a few years. I found most of them to be too tight, too restrictive, or just too hard to get up and down. I didn't want to feel like I was wearing a girdle, or 10 pairs of control-top pantyhose! Finally, while browsing the intimate apparel section of Marshall's, I found the perfect solution.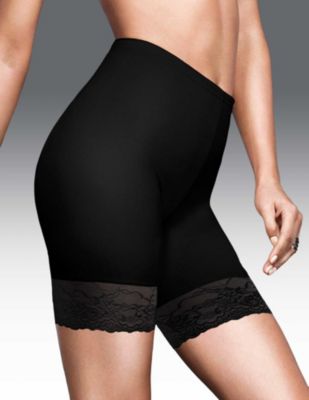 image via maidenform.com
These little guys are amazing! They're lightweight, they aren't too binding, they stay where they're supposed to, and they're slimming. Plus the lace bottoms make them delicate and feminine. What more could a girl ask for? I got these thigh slimmers last spring at Marshall's for $12 each (I have two nude pairs and two black pairs). I think they'll last me a few more years because they still look brand new.
I still wear bike shorts on windy days and when I'm wearing shorter skirts, but my Flexees are my favorite. I won't wear a pencil skirt without them! What is your favorite shapewear garment?
Thanks for reading this text-heavy post. Next week I'll write a little about products to reduce chub rub.