Happy Presidents day readers! I love three day weekends. I decided to participate in
two birds' Inspiration Monday
this week. Here is the inspiration photo: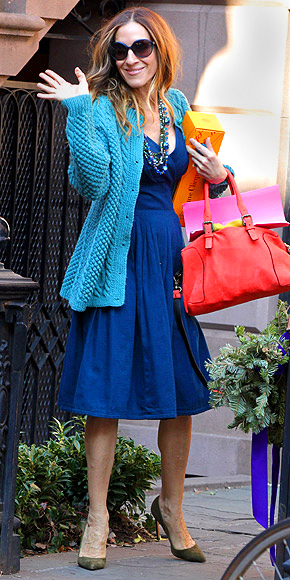 I really liked the monochromatic blue look SJP is rocking, so I decided to recreate it with a blue dress and blue cardigan.
In looking back at my outfit posts over the past week or so, I realize I've been wearing a lot of blue lately. I think part of the reason for that is that some of the newer pieces in my wardrobe are blue, and when I get something new I wear it a lot.
Outfit:
Dress: Marshall's or TJMaxx?
Cardigan: Old Navy
Bag: Jason Wu for Target
Tights: Target
Belt: H&M
Shoes: DSW
Bracelet: Thrifted
I'm off to meet my sweetie for lunch and a walk in the Boston Common. What are you doing with your three day weekend?